SunFest 2015 Beer List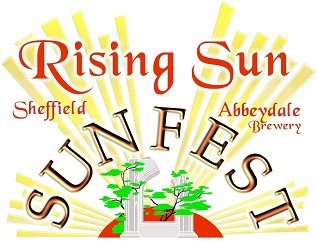 Well it's the announcement most of you have been waiting for, the 2015 SunFest list is here! Be warned, there is the possibility of some last minute changes, but it should look a little something like this...
Abbeydale Brewery, Sheffield. Bex 6.0%
Abbeydale Brewery, Sheffield. Black Lurcher 7.2%
Abbeydale Brewery, Sheffield. DM January Sales 5.5%
Abbeydale Brewery, Sheffield. Summit 4.1%
Acorn Brewery, Barnsley. Gorlovka Imperial Stout 6.0%
Ashover Brewery, Ashover, Derbyshire. Elderflower 4.0%
Axholme Brewing Company, Crowle, North Lincs. Honeyblossom 5.0%
Bad Co Brewing & Distilling, Dishforth, North Yorkshire. Bourbon 7.4%
Bad Co Brewing & Distilling, Dishforth, North Yorkshire. Dazed & Confused 5.5%
Bad Co Brewing & Distilling, Dishforth, North Yorkshire. Elderflower Fall 4.3%
Bad Seed Brewery, Malton. Summer Ale 3.8%
Barlow Brewery, Barlow, Derbyshire. Jolly Roger 5.0%
Fixed Wheel Single Speed Mosaic 4.5%
Black Horse Brewing, Louth, Lincolnshire. Thanks Pa 6.0%
Black Iris Brewery, Nottingham. Rise & Shine 5.2%
Blue Bee Brewery, Sheffield. Cosmic Gold 3.8%
Blue Monkey Brewery, Nottingham. Marmalape 4.5%
Bollington Brewing Co., Bollington, Cheshire. Waterloo 200 4.1%
Bradford Brewery, Bradford. Death Cookie 5.7%
Brass Castle Brewery, Malton. Sunshine 5.7%
Brecon Brewing, Powys, Wales. Rescue Beacons 4.0%
Brewster's Brewery Co Ltd, Grantham, Lincolnshire. Wicked Woman: Maris 4.8%
Bristol Beer Factory, Bristol. Seven 6.7%
Brown Cow Brewery, Selby, North Lincolnshire. Thriller in Vanilla 5.1%
Bumpmill Brewery, Alfreton, Derbyshire. Moonraker 3.8%
Burton Bridge Brewery, Burton upon Trent. Burton 4.8%
Butcombe Brewery, Somerset. Yeti 4.0%
Chadwicks's Brewery, Kendal. Spring Hop 3.8%
Chantry Brewery, Rotherham. Teaser 4.5%
Cloudwater Brew Co, Manchester. Grisette 3.5%
Colchester Brewery, Colchester, Essex. Braggot 4.2%
Colchester Brewery, Colchester, Essex. Red Diesel 4.2%
Collaboration Abbeydale Brewery / Griffin Claw, Sheffield/Grand Rapids, Michigan. Griffin'dAle 5.0%
Collaboration Black Iris Brewery & Hand Drawn Monkey, Nottingham. Smoked Chillie 4.0%
Collaboration Raw / Waen / Steel City, 0. Troika 5.3%
Dancing Duck Brewery, Derby. Waddle it be 4.5%
Dawkins Ales, Bath, Gloucestershire. Black Flag 4.6%
Double Top Brewery, Worksop. The Ringer 5.0%
Dukeries Brewery Ltd, Worksop, Nottinghamshire. Lady Matilda 5.5%
Elland Brewery, Elland, West Yorkshire. Pacifica 4.6%
Empire Brewing, Huddersfield. Big Brother 5.0%
Exit 33 Brewing, Sheffield. Golden Cascade 4.5%
Fernandes Brewery, Wakefield. Stone Circle IPA 6.0%
Fool Hardy Ales, Stockport. Radical Brew # 2 4.2%
Fyne Ales Brewery, Cairndow, Argyll. Rune 3.5%
Great Heck Brewing Company, Goole, North Lincs. Black Jesus 6.5%
Hand Drawn Monkey Brewing Co, Huddersfield. Orange Cream Soda 6.0%
Healey Brewery, Ulverston, Cumbria. True Brit 3.6%
Helmsley Brewing Co., Helmsley, North Yorks. Howardian Gold 4.2%
Instant Karma Brewery, Chesterfield. Saffron Kesar 4.0%
Intrepid Brewing Company, Hope Valley. Travellers IPA 5.4%
Isle of Purbeck Brewery, Swanage, Dorset. Fossil Fuel 4.8%
Kelham Island Brewery, Sheffield. Full Nutty Jacket 4.3%
Keltek Cornish Brewery, Redruth, Cornwall. Magik 4.0%
Kirkstall Brewery Company, Leeds. Dissolution 5.0%
Lincoln Green Brewing Company, Nottingham. Fleroveium 4.0%
Liverpool Craft Beer Co., Liverpool. Oatmeal Stout 4.5%
Lymestone Brewery, Stone, Staffordshire. Lymestone Cowboy 4.2%
Mallinsons Brewing Company, Huddersfield. Cha Cha Cha 4.4%
Melwood Beer Company, Liverpool. Moondance 4.5%
Merlins Micro Brewery, Sandback, Cheshire. Spellbound 4.0%
Milk Street Brewery, Frome. Gulp 4.5%
Monty's Brewery, Powys, Wales. Sunshine 4.2%
Oakham Ales, Peterborough. Pint Please 4.1%
Offbeat Brewery Limited, Crewe. Disfunctional IPA 4.8%
On The Edge, Sheffield. 0 0.0%
Ossett Brewery, Ossett, West Yorkshire. Town End Twist 5.0%
Pheasantry Brewery, Newark. US IPA 4.3%
Plain Ales, Warminster. Inntrigue 4.2%
Purple Moose Brewery, Portmadog. Dark Side of the Moose 4.6%
Quirky , Garforth, West Yorkshire. Gold 5.0%
Rat Brewery, Huddersfield. Phantom Rastberry Blower 5.5%
Raw Brewing Company, Chesterfield. Anubis Porter 5.2%
Raw Brewing Company, Chesterfield. Xtreme Nr 5 0.0%
Revolutions Brewing Company Ltd, Castleford West Yorkshire. White Wedding 4.5%
Riverhead Brewery, Marsden West Yorkshire. Celesti-Ale 4.1%
Rock & Roll Brewhouse, Birmingham. Psychobilly Cadillac 4.0%
Sentinel Brewing Co, Sheffield. ZestFest 4.5%
Sheffield Brewery Company, Sheffield. Mayhem 3.4%
Stancill Brewery, Sheffield. Zepplin 4.5%
Star Brewing Company, Market Deeping. Astral 4.5%
Steel City Brewing, Sheffield. Just What Nobody Wanted 4.5%
Stockport Brewing Company, Stockport. Ginger Tinge 4.2%
Talke O' Th' Hill Brewery, Talke, Staffordshire. Summit 4.0%
Tigertops Brewery, Wakefield. Warrior Clan 4.4%
Tipsy Angel Brewery, Warrington. Big Belter 5.2%
Toolmakers Brewery, Sheffield. Mitrebox 4.0%
Townhouse Brewery, Audley, Staffordshire. Oaken Kriek 5.0%
Townhouse Brewery, Audley, Staffordshire. Wai-iti 4.1%
Weal Ales Brewery, Newcastle, Staffordshire. Weal Noir 4.8%
Weal Ales Brewery, Newcastle, Staffordshire. Weals in Motion 4.6%
Welbeck Abbey Brewery, Welbeck, Worksop. Aramis 4.3%
Wentworth Brewery, Wentworth, Rotherham. Early Fruits 4.2%
Whippet Brewing Co, Leeds, West Yorkshire. House Dogge 3.7%
Wincle Beer Co., Macclesfield. Wibbly Wallaby 4.4%
Woodstreet Brewery, Sheffield. Eisenhower 4.8%
Yeovil Ales Brewery, Yeovil, Somerset. Posh IPA 5.4%
The keg list and cider list will be revealed next week, but these should whet your appetites!
Last Updated: 26th June 2015