The Devonshire Cat Charity Gourmet Gala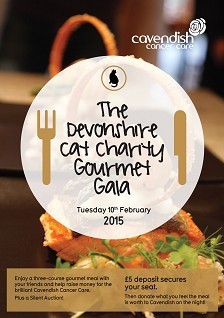 Enjoy a three-course gourmet meal cooked with the freshest of seasonal ingredients sourced by our team of chefs from local producers and suppliers.
Don't do meat? Don't worry! On the night you will have the choice of vegetarian dishes for all three courses.
Once you have enjoyed your evening, you will be given the opportunity to make an anonymous donation to Cavendish Cancer Care. The amount you donate is up to you. All proceeds from the evening will go to Cavendish Cancer Care and help local families living with cancer.
A £5 deposit per head secures your seat, plus a silent auction will be held too.
To book your place please phone the pub on 0114 279 6700 email [email protected] or fill in a form (available from the pub and other places around the city)
For more information on Cavendish Cancer Care and the help they provide, please visit www.cavcare.org.uk
Last Updated: 8th January 2015