We're hiring at the Rising Sun!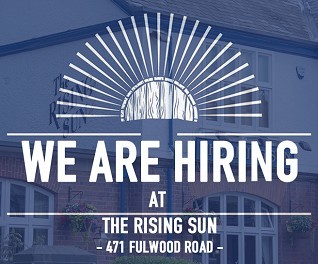 The Rising Sun is a thriving independent community gastropub located in the S10 (Fulwood) area of Sheffield, providing an excellent selection of craft ales alongside a creative, seasonal food menu that aims to showcase the best of British produce with both modern and classical techniques.
We are a passionate and successful independent venue located a 10-minute walk from Ecclesall Road, with excellent transport links. The company has a welcoming and independent feel, making it an enjoyable place to work with a highly professional and hospitable team.
We have always been an employee focussed company, with an emphasis on creativity and personal progression. We work hard to ensure a high quality of life for our staff and to provide an enjoyable working atmosphere where staff feel valued and able to communicate openly with management at all levels.
We're currently hiring in a number of roles to complete our kitchen team, and can offer:
Excellent work/life balance - 5 days a week, no split shifts, food service ends at 9pm (8pm Sunday)
45 hours p/w maximum before paid overtime
Achievable quarterly bonus scheme
Paid overtime
Excellent public transport links across the city
A competitive salary
Uniform provided
Meals on duty
20% off at our online brewery shop and pub
Investment in training and chance of progression within the team
Creative input towards our seasonal menus
The chance to work for an ambitious independent business in a local community setting
Please head here for full details of the roles available and how to apply.
We look forward to hearing from you!
Last Updated: 11th May 2022