Assistant GM required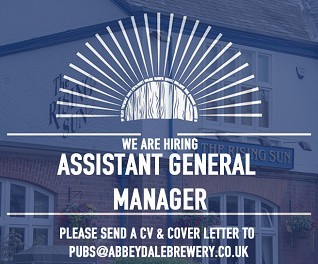 Our lovely pub, the Rising Sun in Fulwood, is on the hunt for a new assistant general manager!
The Rising Sun is a passionate and successful independent venue with the focus on curating an incredible community focused pub offering excellent local real ale, craft beer and wines, all in a very welcoming and dog-friendly environment. This works alongside our high-quality gastro food offering with an emphasis on excellent quality fresh food, which has been locally sourced and is professionally served in our dedicated dining room and throughout the venue.
A 10-minute walk from Ecclesall Road, with excellent transport links, we're located in the leafy suburb of Nethergreen. The company has a welcoming and independent feel, making it an enjoyable place to work with a highly professional and hospitable team.
We have always been an employee focussed company, with an emphasis on creativity and personal progression. We work hard to ensure a high quality of life for our staff and to provide an enjoyable working atmosphere where staff feel valued and able to communicate openly with management at all levels. To this end, we can offer:
All overtime to be paid on a monthly basis – no extra shifts for no reward
Good work-life balance, with reasonable working hours and 2 full days off
A balance between day and night shifts with no open / closes
Reasonable finish times, often by 11:30pm and rarely later than 12am
Full training and development including beer training at the brewery and the chance to do a brew day. Discount at the brewery shop and across food and drinks at the pub for you and three guests
Personal license course if required, food hygiene & allergen, cellar standards and H+S training all offered as standard plus ongoing training and development
Annual inflation based pay rises
A progressive and positive work environment that can be flexible around home-life commitments
Bonus structure based on site audit results
The job role
You would work directly under the highly experienced General Manager to ensure the smooth running of the venue day to day, and to take responsibility for the happiness and welfare of our employees and customers. Your input towards the future growth and direction of the business will be exceedingly important and we want you to bring something you are passionate about with you (examples could be training and development, events, products, food service, tighter standards, music) and to truly make your mark on the place.
Responsibilities include the following, full training can be given in all areas:
Building management, Health & Safety compliance, weekly admin, cash & stock control – we have clear and well-structured systems in place to make this easy
Managing Employees – this is a senior role and you will be expected to develop and support your team
Cellar Management
Customer service – must be customer focussed and able to make guests welcome. Experience of full table service and managing online reservation software would be helpful
Take full responsibility for the monthly site audits and receive a quarterly bonus linked to these
Provide direct cover for the General Manager during any period of annual leave or sickness, upholding their standards at all times.
Who we're looking for
A committed, highly organised individual with an eye for detail who leads by example at all times and is passionate about what they do. Someone who is people focussed, sociable, has a can-do attitude and a drive to succeed.
Experience working in a gastro-pub or similar environment is essential, whilst cellar management training and a passion for real ales would be a bonus. We are looking for someone with previous experience working in an Assistant General Manager role, but would also consider applications from strong Duty Managers looking to take the next step in their career path.
Salary
£23-£25k depending on experience
Start Date
Provisional start date of 14th February, to allow the successful candidate to shadow the outgoing AGM, but this can be discussed on an individual basis.
Please apply by emailing a CV and cover letter to [email protected]
Last Updated: 13th January 2022