Lost Souls 2019: SMASHWAFEL!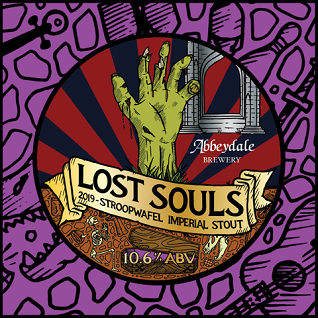 Back in April this year, those of you who joined us for our second annual "Piss up in the brewery" event may remember a very special one-off beer brewed for the occasion. Our brewer Sam rustled up a rich and boozy imperial stout, infused with maple syrup, cinnamon, and loads and loads of Stroopwafels! The renown of "Smashwafel", as it was known, quickly spread and it became our most requested beer of the summer.
So we are very excited to announce that we've scaled up the recipe and this week are releasing 2019's Lost Souls imperial stout as a Smashwafel special!
A complex malt base with black malt, crystal, caramalt, Munich (the only addition from the original recipe, just to add another layer of biscuit-y pastry loveliness) and chocolate malt provides a deep and robust body. Comically large bottles of maple syrup, organic cinnamon quills, and of course plenty of actual Stroopwafels themselves were added to the hopback. Our house yeast would have struggled with this beast, so we enlisted the help of some London ESB to work its magic, all the way to our desired 10.6% ABV.
The result is a sumptuous and delectable imperial stout with a balanced bittersweet character, velvety smooth with decadent caramel flavours.
The cask was all spoken for on the first day of sale, but at the time of writing we have plenty of kegs remaining, so get in there quick if you'd like one for your venue! (Gold star if you can spot the little stroopwafel addition to this year's edition of the artwork!)
Cheers!
Last Updated: 22nd October 2019