Funk Fest 19 - House Beers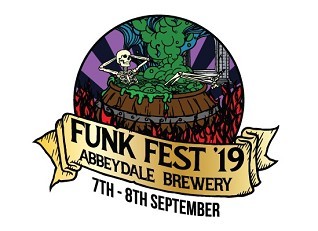 With just a fortnight to go until Funk Fest 2019 kicks off, the beer list has well and truly taken shape and some very special brews have started to emerge from the Dungeon! Here's your house beer list for this year's festival…
Don't Call Me Weiss (5.2%) - Traditionally fermented Berliner Weisse with strains of Sacchromyces (including a hybrid strain originally used in wine production) and Brettanomyces. Light, juicy, sour. *Launching at the Crow on Thursday 29th August as part of the Funk Fest Fringe*
Wanderer (5.5%) - Kaffir lime and lemongrass saison, delicately perfumed with a pleasing sweetness. Fermented with our house saison blend which gives a refreshing spicy character and a dry finish.
Methuselah - Brett Reserve (12%) - Big and fruity imperial stout with a light acidity which balances the hefty malt backbone. Packs a punch after 18 months in barrel. *First pour*
Cow TIPA (12%) - Sour, barrel aged, bretted triple IPA fermented with the addition of Riesling grape must, before being dry hopped in barrel with Galaxy, Nelson Sauvin and Centennial. *Launching at Shakespeares on Saturday 31st August as part of the Funk Fest Fringe*
Logan's Run (6.0%) - Single barrel pale ale base, fermented on cider lees with the addition of a whole allotment of locally sourced loganberries (thanks to Rising Sun regular Les!) *Festival exclusive*
Greetings from Fort Mill (3.8%) - Collaboration with Amor Artis from South Carolina. Refreshing grisette infused with yarrow and orange peel.
Slam Dunk Da Funk (5.3%) - Collaboration with beer writer Melissa Cole. Barrel aged Persian dark sour fermented with kefir, with the addition of black limes, apricots and sumac spice in the barrel. *First pour*
SauPoint (5.5%) - Collaboration with Colin Stronge and Sir Robin of Locksley gin. Complex sour beer with apricots, aged in an ex-ex-Sauternes, ex-Old Tom Navy Strength gin cask. *First pour*
Unbeliever (4.4%) – Raspberry and Vanilla Berliner Weisse. Tart and fruity kettle sour with a soft acidity and a creamy finish.
Sow The Seeds (5.5%) - Collaboration with Siren Craft Brew, 1/2. Bretted Farmhouse IPA with Simcoe and Mosaic hops. A pleasant ever developing funk is coming to the fore on this one after a few months in keg. *Final pour - last ever keg*
Reap A Harvest (7.5%) - Collaboration with Siren Craft Brew, 2/2. Barrel aged saison style beer, taken from the first runnings of Sow the Seeds, infused with blueberries, blackberries, gooseberries and chuckleberries. *First pour*
Ryes From the Grave (7.2%) – We've waited 18 months for this beer to be ready, but we reckon it was worth it. A blend of three beers aged in a mix of American Oak and French ex-red wine barrels, given a final fermentation with cherries and blackcurrants. You can read more about this one here.
Hop Bretta: Vic Secret (3.9%) - Single hopped sessionable bretted beer, designed to have a light funk and be an accessible introduction to this style of beer. *On cask*
---
Next week we'll be sharing details of the extra special tasting events happening over the course of the weekend, closely followed by releasing the line up of the incredible guest beers we've sourced especially for the festival.
If you haven't got your tickets for Funk Fest yet, head to bit.ly/funkfest19 to grab one now! Don't forget your ticket includes a festival glass and a palate cleansing beer to soothe the tastebuds mid-sour-session!
Hope to see you at one of our fringe events (you can also catch us at Hop Hideout on Friday 30th August, where they've secured the last ever kegs of our award winning Wild Plum Ale and Chorlton Raspberry Blend) and of course over the weekend of 7th and 8th September!
Cheers!
Last Updated: 27th August 2019