Heresy Lager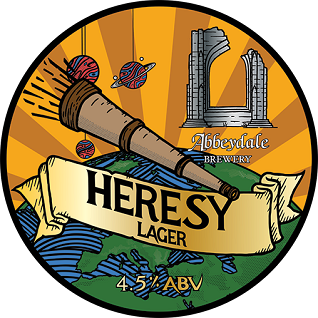 We are very excited to announce that for the first time in our 23 year history, we are introducing a lager to our core range of permanently available beers. Welcome Heresy!
We have been thinking about brewing a lager for many a year (some of you may remember our lagered Moonshine, Full Moon, that we released for our 20th birthday back in 2016), but to brew one regularly and consistently on the kit we had in the past was somewhat of a pipe dream. However, with recent investment in our facilities in terms of tanks and glycol chilling upgrades, we now have the ability to control temperature throughout the fermentation, condition and lagering process, widening our horizons and meaning that we can finally unleash an Abbeydale lager upon the world. We've always had the name Heresy in our back pocket, and brewery owners Pat and Sue were insistent that we needed to save it for our lager, and we're so happy that finally the name has a beer to belong to!
The lager itself is clean and crisp, similar to a continental style, with good carbonation and a fresh and floral aroma. Sessionable, with a slight sweetness and low bitterness, perfect for quaffing on a few pints. The strain of Sacchromyces Pastorianus (lager yeast) we use is derived from a German lager yeast. It is neutral in flavour and therefore great for our target end product of a clean, easy drinking beer with a clear and bright presence in the glass.
We initially intended to run a number of trial recipes whilst we dial in our process, similar to how we brought our American Pale Ale Heathen into being (Heathen beginning life as the catchily named Pale Ale #6). However with the very first batch now ready for kegging, we have come to the decision that we're very nearly there with the recipe – getting things right first time around isn't generally quite how we do things here at Abbeydale, so this has come as a bit of a surprise to us all! We feel this is definitely testament to the investment in terms of time as well as new kit that we have all put into making sure our lager is just what we wanted it to be.
Heresy will sit happily alongside Heathen in our Brewers Emporium range, and we love the design our artist James Murphy has given it. As our sales head honcho Dan Baxter puts it, "it's about offering something we produce to absolutely everyone. From a well established core range for regular cask drinkers. To brand new weekly specials for the thrill seekers, cold refreshing heavily hopped hazy keg beers (again both core & weekly specials), small pack, VF & GF beers. Now we have another string to our bow in a smashable lager!"
The first trial batches (called Heretic, a temporary name to reflect that it isn't quite the finalised recipe) will initially be sent just to our own two pubs, the Devonshire Cat and the Rising Sun, and a small number of other long standing customers, whilst we continue our learning and brewer training and can be confident in achieving the consistency of quality that we always strive for. We would like to use this trial period to ask for feedback from you, our drinking public, so please do get yourself down to the pub and try a pint! You can email us at [email protected], comment on this blog post, or get in touch via any of our social media platforms if you have any thoughts you would like to share.
It's been a long time coming, with the recipe development taking place over months (if not years!) whilst we have been undergoing extensive research and taking advice from our peers in the industry. The team is hugely excited that this is all now finally reaching fruition, and we can't wait for you to try our Heresy!
If you're a trade customer and are interested in stocking our lager in the future, please contact [email protected] to add yourselves to our interest list.
And finally, keep watching this space for details of the official launch, coming soon!
Last Updated: 21st March 2019