PISS UP IN THE BREWERY #2!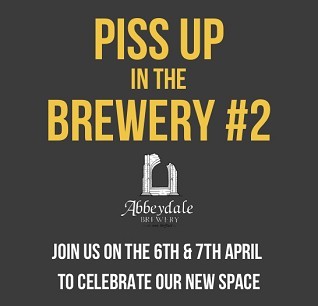 Those of you who've been following our progress for a while will already know that we've been hoping to expand, and have been bursting at the seams of our current premises for a good few years now. And back in December, we shared the news that we've finally got our mitts on some much needed extra space (7426 square feet of it, to be precise) which joins on to our existing home just off Abbeydale Road. And now that we can see an end to those chilly winter months, we're ready to show it off by hosting our next beer festival!
Taking place over three sessions during the weekend of the 6th April, we intend our third ever event to be held here (following on from 2017's first Piss Up In The Brewery, and last year's Funk Fest) to be the biggest yet, with music, food from Get Wurst (vegan and gluten free options will be available) and of course oodles of beer!
Our offering will include beers served from cask, keg and tank, including some one-off festival exclusives. We'll be featuring not only Abbeydale beers but some from our brewery pals too.
Ticket holders will have the opportunity to go on brewery tours encompassing our new space and see how far we've come on our journey so far. But please do bear in mind it's still a bit of a work in progress, and we hope you'll continue to join us over the coming weeks, months and years, as our ambitious programme of expansion aimed at bringing you ever more and ever better beer continues. It's you, the people who drink our beer, who have got us this far, and we're so excited to warmly welcome you to share this space with us.
So come and join us on the 6th and 7th April for a real celebration and experience our sights, our sounds and our smells in the heart of the community we love so much. We can't wait to see you there!
Visit bit.ly/pissupinthebrewery to get your tickets now!
Last Updated: 22nd February 2019