Hop Bretta Mosaic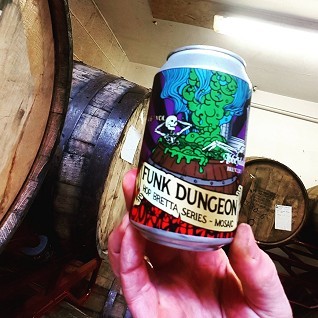 You might have spotted that we have recently made a Funk Dungeon release available in can for the first time – the Mosaic edition of our Hop Bretta series. The majority of our beers created here at Abbeydale Brewery are fermented using our house saccharomyces cerevisiae yeast strain, something we're very proud of which forms a fundamental part of the character of most of our brews. However, the recent development of our own brettanomyces blend, as the Funk Dungeon project has grown, has allowed us to explore different fermentation techniques and experiment further. This new can is the result of one such experiment.
It's not the first mixed fermentation beer we have packaged into can, with three of our collaboration beers brewed last year (Creeping Brett, Sage Advice & Laid To Rest, available as a six pack here) all having been primary fermented with the addition of our house Brett culture. However as it's the first to be shown under our Funk Dungeon branding we thought now was a good time to give you a little more information regarding the extra steps and considerations we need to make to ensure when packaged into cans, the beer reaches you just as we intended.
For us the most important thing is time – it is imperative that we allow the beer enough time to secondary ferment as far as possible. As we have been using our house Brett culture for over a year now, we can be confident that the furthest it will take a beer is to a PG of 1003, which means there's barely any sugar remaining and any that is still present cannot be nibbled up by our blend of yeasties and beasties. We therefore allow the beer to rest in tank, or in the case of Hop Bretta Mosaic specifically, in barrel (the barrels used were a mixture of second fill barrels, predominantly 500L ex-sherry casks) until it reaches this point, before moving it to our bright tank ready for packaging.
In addition to this whilst we play the waiting game, we also employ forced fermentation methods with small samples, including warming and agitating the beer, to further ensure that there are minimal residual sugars remaining which ensures the stability of the finished product. At the point at which this forcing method has no result (also in this case at a PG of 1003), we can be confident that the beer is ready to go into can.
Anyway, after all that, onto the beer itself! Our new Hop Bretta series is an occasional release of lower alcohol single hopped beers, fermented using our usual yeast, but finished in wood with our house Brett culture which gives a light funky (rather than sour) character. Our intention is that these beers will be very accessible and a great introduction to our Funk Dungeon range and to wild ales more generally. This Mosaic edition (4.6%) has a fresh and floral aroma and notes of grapefruit, balanced by a delicate earthy Brett character which gradually builds upon the palate. It's out now in keg as well as in can (cans available via our online shop), so do keep your eyes peeled for it and be sure to let us know what you think!
Cheers,
Jim
Funk Dungeon Lead Brewer
Last Updated: 19th February 2019