WE DID IT!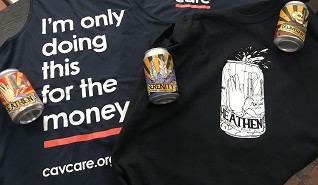 Last weekend, 8 of us from the brewery, plus one of our trusty barkeeps from the Devonshire Cat (and a couple of our other halves!), took to the streets of Sheffield to take on the challenge of the Run For All 10km road race in order to raise funds for Cavendish Cancer Care.
For many of the team it was our first ever 10km, with some of us never having run before – more about our motivations for taking this on in this blog post.
And so on a chilly Sunday morning, we apprehensively approached the start line, minds on the long 6.8 miles ahead of us but with the surefire knowledge that we were raising money for such a worthwhile cause and that so many people believed in us!
The run itself is a bit of a blur for us all (excluding the giant hill up Hangingwater Road, which I think is firmly entrenched in all of our minds, and thighs, as I type!) but the atmosphere was absolutely incredible. So many Sheffielders lined the streets to cheer on the runners and it was a genuinely inspiring race to be a part of.
Devonshire Cat superstar Tommy was the first of the team to cross the finish line in an amazing 43 minutes, with almost all of us who followed behind achieving a Personal Best. Of course there was a can of Heathen waiting for us all back at base camp once we'd crossed the finish line, which definitely spurred us on over the last (uphill) kilometre!
We've raised over £1250 for Cavendish Cancer Care so far and we're immensely proud to support such a wonderful cause. For any of you who were waiting to see how we'd do before parting with any of your hard earned cash, we are still accepting donations so please head over to bit.ly/teamabbeydale to help us smash our target even further!
A huge thank you to everyone who has supported us. It really does mean a lot!
Cheers,
Carly, Dan, Laura, Toby, Ethna, Jim, Scott, James, Tommy, Steve and Lucy, aka #TeamAbbeydale!
Last Updated: 24th September 2018