Funk Fest 2018 - Guest beers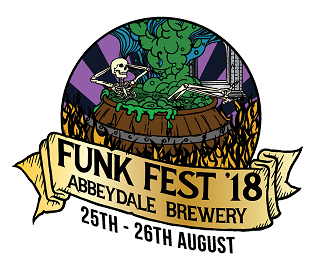 Funk Fest 2018 kicks off THIS WEEKEND and we are so excited! Tickets are still available while stocks last at bit.ly/funkfest18...
We announced the beers we'll be pouring from our very own Funk Dungeon project last week (you can refresh your memory by reading this blog post) and alongside them we've sourced some incredible beers from all around the country. The sour, barrel aged and mixed fermentation scene in the UK is truly flourishing at the moment, and we're massively proud to be bringing you this line up.
Bad Seed Brewery, Malton - BA White Wine Saison (6.2%) - A zesty saison with honey and grains of paradise. Aged in barrel for two years with brettanomyces for a distinct Farmhouse character. Funky rather than sour, the white wine barrel gives a clean, sharp fruit note that works perfectly with the Brett strain.
Chorlton Brewing Co., Manchester - Vanilla Sour (4.0%) - Light, smooth, fruity sour pale ale with vanilla.
Elgoods Brewery, Wisbech - Coolship Dark (5.0%) - Spontaneous fermentation is initiated on Elgoods' unique double coolships. A long period of fermentation and maturation in special tanks enables naturally occurring wild yeasts, combined with oak, to create its sharp fruity flavour. A true sour English Ale.
Fyne Ales, Cairndow, Scotland - Origins Expedition (5.6%) - A hybrid of old world and new world IPAs – an Amarillo and Citra base beer was matured for 12 months in clean oak barrels before blending with a small portion of soured wheat beer to give a clean, lactic finish.
Fyne Ales, Cairndow, Scotland - Sour Friends: Passionfruit (4.0%) - Sour Friends is Fyne Ales' series celebrating tart, refreshing beers loaded with flavour; this passionfruit edition is brimming with tropical fruit notes and has a vibrant, sour citrus finish.
The Kernel Brewery, London - Biere de Garde: Galaxy (5.6%) - Burgundy aged mixed fermentation saison aged for 10-12 months, before being dry hopped with Galaxy. Light lemony refreshment, with tannins, brett spice and earthiness. Dry finish.
Landlocked Brewery, Alfreton - Lemon and Lime Saison (5.5%) - Fruity and complex citrus saison. This one is our only guest cask of the festival!
Little Earth Project, Sudbury - BA Rhubarb Saison (6.7%) - A balanced display of rhubarb acidity, coupled with a soft brett touch and a warming whisky presence.
Lost Industry Brewing, Sheffield - White Wine Bretted Peach Sour (6.0%) - Sour ale aged for 8 months on peaches with Brettanomyces in Bordeaux Barrels.
Magic Rock Brewing, Huddersfield - Yuzango (4.7%) - Fresh and vibrant yuzu and mango gose.
One Mile End Brewery, London - Morello Cherry Gose (4.2%) - Delicate and fresh sour-mash gose conditioned on beautiful Morello cherries to add a bright spritz of tartness.
Redchurch Brewery, London - Sour Lager (3.8%) - Does what it says on the keg! With a light hopping and a smooth mouthfeel.
Siren Craft Brew, Finchamstead - Odyssey 009 (8.7%) - We are VERY lucky to have got hold of a keg of this! The newest release from Siren's Barrel Aged Odyssey series, this is a blend of 80% stout and 20% saison (plus some coffee), giving it a rich and dark profile with a hint of zing on the palate.
Steel City Brewing, Sheffield - Episode 1: The Phunky Menace (9.0%) - Collaboration with Emperor's Brewery & Neepsend Brew Co. Second runnings of an Imperial Chocolate Stout, soured overnight, then fermented with a saison yeast and aged six months in a Bordeaux Red Wine Barrel with Abbeydale Funk Dungeon mixed brett culture.
Thornbridge Brewery, Bakewell - Florida Weisse (4.5%) - Hazy raspberry sour. Super fruity and very refreshing.
Thornbridge Brewery, Bakewell - Days of Creation (7.0%) - Sour red ale aged in oak and fermented with raspberries.
Wilderness Brewery, Newtown, Wales - Abbaye Brett (6.0%) - Bretted Belgian pale with a restrained Brett character and a subtle Mandarina Bavaria dry hop.
Wilderness Brewery, Newtown, Wales - American Farmhouse (6.4%) - Mixed fermentation saison, very lightly dry hopped with Citra & Ekuanot. Moderately funky.
Woodman's Wild Ale, Cornwall - Alexanderplatz (3.5%) - Berlinerweisse with Alexanders (a coastal wild plant similar to Angelica). We'd also recommend you check out Woodman's crowdfunding campaign here!
Woodman's Wild Ale, Cornwall - Hoochy Boochy (2.5%) - Kombucha with subtle herbal aromas of fennel and nettle, top notes of blackberries and a whiff of Citra from dry hopping. On the palate there's a complex array of sourness, fresh acidity and fruitiness with a light, sparkling finish.
We hope to see you this weekend... we have a goooood feeling about it!
Grab your tickets at bit.ly/funkfest18 if you'd like to join us!
Last Updated: 23rd August 2018