Manchester Beer Festival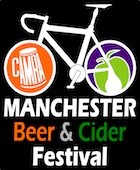 Greater Manchester CAMRA has continued CAMRA's tradition of juxtaposing by placing their festival inside the impressive Manchester Velodrome. The Velodrome's "regulars" are the kind of people who have their eggs white and coffee black and wear Olympic gold medals around their necks whereas, most beer festival goers prefer their eggs deep fried and wrapped in sausage meat and bread crumbs, their coffee non existent and a golden ale down their necks.
So, while most of us were polishing off our pints with intermittent dashes to the pie and mash stand all whilst complaining the walk to the toilets was too treacherous a journey, some of Great Britain's finest physical specimens were hurtling themselves around the velodrome's steeped banks on two wheels at a pace that hurt ones head to follow. At least those keeping up with the action had a legitimate excuse for their dizziness, however.
The festival boasted 300 cask ales from breweries all over the UK with the majority being pulled through a preferred hand pump and not under gravity. Adding to this ample selection were 75 traditional ciders and perries and oodles of bottled and kegged beers from the world over. Oh, and a man selling hollowed cows horns to drink out of.
Our night started with an "aif" sorry; an "aaarf "of our very own "Brimstone", Abbeydale's sole beer at the festival. This 3.9% russet brown beer is massively understated despite being full of flavours of coffee, toffee and liquorice while the US Amarillo hops add a spicey and citrus edge. Beautifully conditioned and bright, it got a pass from quality control and we left the rest for others to enjoy.
My first drink was of Marble Brewery's "Ginger Marble". This has been a favourite of mine for a while and the golden beer still packs a fiery ginger punch. Catching my eye was the pump next to Marble Ginger, "Earl Grey IPA". This brilliant and heavily hopped 6% pale deservingly bagged Gold at the SIBA North West beer festival in 2013 in the premium strong bitter category.
After a chin-wag with Michelle and the team from Offbeat brewery who were celebrating as their "Way off Wheat" came third overall in the competition, we went to find some of the new kids on the block and South Wales' only micro-brewery; Tiny Rebel.
First up was a glass of their "F.U.B.A.R" which seems to be based on the North American craft ideology of pale beers with large amounts of aromatic hops. This drop was washed down with "Dirty Stop Out" a smoky oat stout. I've got a feeling this brewery is one to watch…
With an announcement that the dreaded "General Public" was en route, someone I can only assume from the fear on some faces is a ruthless army warlord, there was a mad rush for the bars.
Upon reaching the front of the queue, I was informed it was my round and that I was to go to order a "Shaft Bender". Not being wet behind the ears, I was utterly convinced this was the real ale equivalent of asking the general laborer at a building site to go to the B&Q and buy some "tartan paint and a pot of elbow grease". Turns out, it wasn't. "Shaftbender" from Saddleworth brewery based in Oldham was just what it said in the program: very dark, rich and dry.
Macclesfield based Red Willow brewery's chocolate stout "Heartless" was the last drink of the night. Dark and delicious, it was a fantastic beer to finish on.
Slowly walking out the hall, faster than a cannonball we made our way to Piccadilly, under the Pennines and home.
Last Updated: 9th September 2014