Sheffield Beer Week: Who Got That Funk?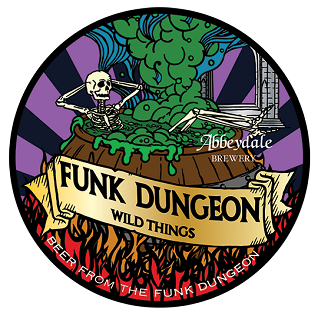 It's Sheffield Beer Week this week, and we are putting on a funk celebration across the Steel City. We have four beers being unleashed from the Funk Dungeon; a couple of exclusives and a few first pours.
The first made its debut at Saturday's opening festival Indie Beer Feast: an Oak Fermented Tart Saison (4.1%, pH 3.16), which uses a tart base wort from the Unbeliever release a couple of months ago, but this version was entirely fermented in an oak puncheon. For those of you who missed out on Saturday's festival, we also have a special single cask of the tart saison flavoured with a pomegranate tea from our friends at Birdhouse Tea Co, which is being served at The Shakespeare's barrel aged beer evening tonight.
Also taking place tonight, we also have the first pour of the barrel aged version of 1868, our collaboration with famed beer historian Ron Pattinson. We are currently aiming for this to be the first annual release of a bretted oak aged Scotch Ale, brewed to a historical recipe from 1868. We have a version on keg which has been aged in an ex-rum puncheon, and with additional samples available for ticket holders which have been aged in French and American Oak. Tickets are free and are available here. You can also read more about the brewday behind this tasty barley wine-esque beer here.
1868 will also be on from Wednesday at The Old Workshop, alongside a great selection of beers from other Sheffield breweries in their local beer showcase (please note as it has been barrel aged, the ABV of this version is 11.7% which differs from the pump clip image shown).
Moving on to Thursday night, we are looking forward to Sour Puss at the Devonshire Cat. We will be taking part in our first funk battle, a sour-off (opH?!) with our compatriots Chorlton Brew Co from the other side of the Pennines. At this event we will be featuring a special one off blend of our 12 month aged gruit and a fresher "Flanders" Red. Currently this is only 5 months old but has already developed a soft fruit acidity accompanied by an oak character that underpins the flavours delicately and deliciously. We're really looking forward to seeing how this one continues to develop.
And after such a fun filled, beer fuelled week, as a riposte to your Beer Week imposed hangover, why not head over to the Rutland Arms for vegan brunch, and a series of 3 bespoke beers made here at Abbeydale with help from Rutland staff Emma and Heather, alongside a Bloody Mary boost to our barrel aged sour.
Cheers!
Jim
Follow the Funk Dungeon on Twitter: @abbeydalefunk
Last Updated: 12th March 2018