Tramlines Ale Launch Party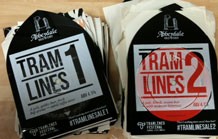 The "Tramlines" beer launch night started as you may expect any other Thursday to start in Sheffield; with intermittent downpours of Biblical proportion. We lucky few escaped the deluge and were pleasantly serenaded by a few of Sheffield's sprites under the roof of one of the steel cities' favourite institutions; The Harley.

The launch began with an explanation to the uninitiated on how this years beer would be chosen. Simply; we would be given the choice to vote for one of two different beers and the favourite would be put into production for the attendees of Sheffield's "Tramlines" festival to enjoy.

After the excitable murmur of how retro the vinyl stamped pump-clips looked was brought to a simmer, it was time to get down to the beers themselves.

It was a pleasure to witness the ignition of senses by our beers, as it's praises were sung by those whose taste buds were tantalized. A spectacle that humbles any hard working brewer.

The Golden "Tramlines 1" got my vote. The wonderfully subtle toffee flavour coming from the cara-malt seemed to be balanced beautifully with the US Cascade hops which both resonated harmoniously with my pallet.

However, it seemed that the paler, Galaxy hopped "Tramlines 2" made more of an impression in the Harley. With it's tropical notes and citrus edge paraded around the place, I got the impression this may be crowned the victor.

If this is true, it affirms Sheffield's insatiable appetite for pale hoppy beers. Good news for us at Abbeydale!
Last Updated: 9th September 2014