Fruits of your generosity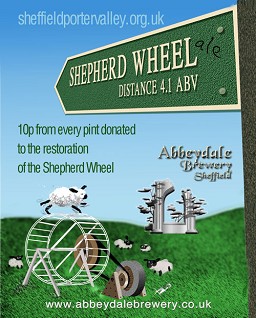 Those of you who came to Sunfest 3 or were around in the July of 2009 might remember that our Charity beer that year was Shepherd Wheel Ale and our supported charity the Shepherd Wheel Restoration Fund. We raised over a thousand pounds towards this good cause, a tiny drop in the budget needed for the restoration, the bulk of which came from the Heritage Lottery Fund.
On Saturday 12th May, all of the hard work of the fundraisers and the Sheffield Industrial Museums Trust came to a wonderful conclusion with the official opening of the restored Shepherd Wheel. We were delighted to find that Abbeydale Brewery gets a mention on the plaque - really it is a mention for all of you who came to Sunfest or drank the beer.
I'd suggest that if you haven't visited it before or haven't been there for a while, you go and take a look at Shepherd Wheel. It is currently open every weekend and bank holiday Monday and it's free. It is a Scheduled Ancient Monument and an incredible piece of Sheffield's early industrial history. There is a leaflet which you can use to walk right up the Porter Valley from Hunters Bar, which points out lots of vestiges of the industry which once thrived right along the Porter Brook. And of course just a few minutes up from Hangingwater road or down Fulwood Road is an excellent pub - The Rising Sun.
And of course it is soon Sunfest time again. This year 5th to 8th July 12-11 daily. Our supported charity this year is Rain Rescue, our charity from 2010. So please come along and drink some beer, have a good time and contribute to a good cause.
Last Updated: 1st August 2012