Meet the Brewer - Abirradero, Barcelona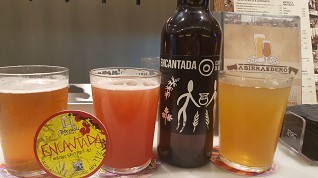 Remember back in February when the team from Instituto de la Cerveza Artesana (ICA) and craft beer bar Abirradero in Barcelona came over to brew the absolutely delicious Encantada with us?
Well… myself and our brewer Jim have just made the trip over to Spain for the return leg of the collaboration, including hosting a Meet the Brewer in Abirradero, showcasing four of our beers!
This will be the first of three posts from our visit, focusing on the event itself. Look out in a couple of weeks for loads more info on a very special trip we were lucky enough to be able to take to learn more about the history of Encantada, and also of course for details of the beer we have made with ICA.
Abirradero opened in 2015 as one of the instigators of the Barcelona craft beer scene. The emphasis at Abirradero falls keenly on gastronomy, and a commitment to flavour in everything they do… they even make their own sodas! Well over half of the 40 taps that line the bar are dedicated to their own beers brewed just 10m down the street at ICA, with styles ranging from a seaweed gose to an imperial ice cream stout. The menu is similarly wide-ranging, with flavour and innovation always being right at the forefront. Many of the dishes incorporate beer too, including Encantada battered calamari! We were lucky enough to make our way through most of the menu during our few days there, and seriously cannot recommend the bar enough for both beer and food… everything was exceptional.
Onto the event! We sent four different kegs of our beer along with cases of Heathen and Voyager cans, in our first ever international export, so it was already a really big moment for us. Our Encantada, of course, made the trip (as did a very special one off keg of barrel aged Encantada), along with plum porter Salvation 3 and Voyager 3 IPA, hopped with Galaxy, Lemon Drop and Centennial.
Having covered the bar in Abbeydale merch and decked out the staff in Moonshine t-shirts, we were ready to kick off the event. There was a great turnout and loads of interest in what we do as a brewery. The fame of ICA's Encantada in Barcelona meant that many people were keen to try the "new" Encantada all the way from Sheffield, and from there we were happy to persuade them to sample our other brews… we even managed to convince a Guinness drinker to try a Salvation 3 (and are happy to say he enjoyed it)! Our beers were all met with a great reception from the locals, and a Sheffielder even turned up!
We were particularly honoured to have been introduced to special guest Manel, head archaeologist for CIPAG and the Cova de Can Sadurni, the site where the oldest remains of beer ever found in Europe and which inspired ICA's Encantada was discovered… more on that in our post next week.
A huge thank you to the team at ICA and Abirradero for inviting us to showcase our beers internationally for the first time ever, and for being such fantastic hosts. We had the best time!
Cheers!
Laura
Last Updated: 24th July 2017