Cavendish Cancer Care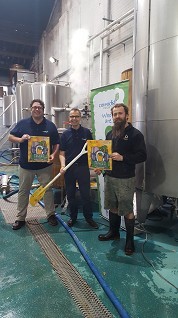 We are pleased to introduce to you our charity beer for this year -Triple C! Dreamed up in collaboration with local charity Cavendish Cancer Care, 10p from every single pint sold of the 40 brewers' barrels brew will go to support the charity. Taking inspiration from the charity's name, this 4% pale ale has been created with three hops that all also begin with the letter 'C' – Cascade, Centennial, and Columbus – which provide a vibrant fruity flavour with tropical and citrus notes alongside a spicy hint of resinous pine.
We have a long standing relationship with Cavendish Cancer Care, having worked with them on and off for a number of years. We are delighted to have teamed up with them as our charity partner for the whole year and be organising a variety of events with them throughout 2017, at both of our pubs as well as at our upcoming beer festival Sunfest, which is where you will have the opportunity to drink the very first cask of our charity brew!
Cavendish Cancer Care (reg charity 1104261) is a Sheffield charity dedicated to improving the quality of life for people living with cancer in South Yorkshire and North Derbyshire. They believe no one should face cancer alone, so provide emotional and physical support through counselling and complementary therapies. Their services are provided free of charge and they rely on the donations from supporters and help from volunteers to continue their very valuable work, with only two weeks per year of NHS funding provided.
See www.cavcare.org.uk for more information, including if you would like to get involved with Cavendish or might know someone who needs their help.
Last Updated: 3rd July 2017