Brewers Emporium launch night!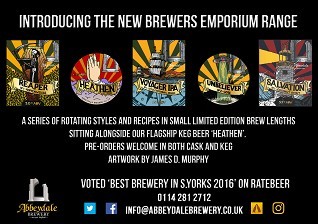 Please join us at the Devonshire Cat next Thursday 16th March any time from 5pm to celebrate the launch of our fantastic new range as part of Sheffield Beer Week! The full range will be available across cask and keg. Open until 2am!
The Brewers Emporium range is a constantly rotating and evolving series of beers, where our brilliant brewers have been given free reign to select unusual and interesting ingredients to create exciting recipes for your drinking delights. The new beers will sit alongside existing core keg beer Heathen, an American style pale ale which is likely to be a familiar sight to many of you! Look out for Voyager IPA, Salvation stout, Reaper cereal (killer) beer and more!
Also being released under the Brewers Emporium banner is something we are all VERY excited about… our Funk Dungeon project, where we intend to explore barrel ageing, souring, and mixed fermentation beers. You can now follow the Funk Dungeon on Twitter @AbbeydaleFunk - look us up!
The artwork for the Brewers Emporium range has been created by artist James Murphy, who started working with us in 2016, beginning with the distinctive Heathen branding that has successfully launched our new and exciting craft beer range. James' original and detailed work for the ever-expanding new range will allow each beer to stand out on bars and beer shelves across the country, with each beer represented in James' characteristic, hand-drawn style. An exhibition of James' artwork will accompany the beer at our launch event next week, so come on down for what promises to be a brilliant evening!
Last Updated: 9th March 2017