S'more Than A Feeling…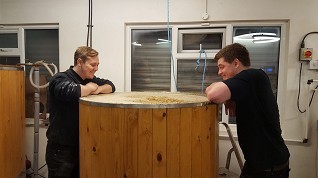 Earlier this month, our brewer Jamie and office manager Laura popped over to Huddersfield for an away brewday with Ryan at Beer Ink. The beer? An imperial s'mores stout, enriched with lactose, cacao nibs, marshmallow goo and a cornucopia of lovely biscuity malts. Doesn't that sound, quite frankly, DELICIOUS. Guaranteed to leave you wanting "s'more" (#sorrynotsorry for the terrible pun!)
We arrived at Beer Ink on a gloomy Huddersfield day in high spirits despite the grey weather. The first job of the day was to prepare the grist, and thanks to the complex malt bill we had a full malty rainbow, with grains ranging from a pale beige to a rich roasted brown. The mash tun was packed absolutely to the brim by the time we were finished in order to provide enough sugars for the yeast to nibble on to create our hefty 9% brew!
It was really interesting to work on a brew kit that's so different to our own… During the boil, Jamie got busy grafting and dug out the mash tun, something we don't usually have to do here at Abbeydale thanks to our handy rake arm! Christmas tunes helped greatly and the vessel was empty in no time.
Whilst we waited for the transfer to the fermenting vessel to complete, we spent some time in the small but perfectly formed tasting room (well worth a visit - look out for open days next year!) and sampled Beer Ink's imperial coffee stout and the much acclaimed One Armed Bandit, an imperial fruit sour aged in Bowmore whisky barrels that tasted reminiscent of Love Heart sweeties.
We had a SUPER day and even managed to fit in a trip to some of Huddersfield's finest bars to toast our creation. Already looking forward to Ryan's return trip next year for Abbeydale x Beer Ink #2!
Cheers!
Laura
Last Updated: 19th December 2016